Albia Chamber of Commerce

Contact:

Deborah Morgan




18 South Main Street




Albia, IA 52531

Phone:

(641) 932-5108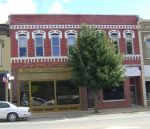 The Albia Area Chamber of Commerce is a voluntary non-profit organization of the business community advancing the interests of businesses, industries, services and professional firms in the Albia, Iowa area. Most importantly, the chamber is people just like you who realize that through the chamber they can accomplish collectively what one of them can not do individually. The strength of the Chamber lies in attracting the greatest number of members and creating a united pool or resources from which to draw ideas, energy and finance. Ultimately the Albia Area Chamber of Commerce is Business helping Business. The Mission of the Albia Area Chamber of Commerce is to promote and develop the commerce and character of the Albia area, through a cooperative network of leadership and involvement of businesses, industries and the community.
Area 15 Regional Planning Commission

Contact:

Chris Bowers




224 East Second Street




Ottumwa, IA 52501

Phone:

641.684.6551




Fax:

641.684.4894
Office Hours: 8:00am - 4:30pm Monday - Friday

The Area 15 Regional Planning Commission (RPC) began operation in July 1974 as the Council of Governments (COG) organization serving the local jurisdictions our six county neighborhood of Davis, Jefferson, Keokuk, Mahaska, Van Buren, and Wapello Counties in southern Iowa.

The Area 15 RPC exists to promote the general welfare, convenience, safety and prosperity of its regional neighborhood. These activities are approached on a cooperative basis and provide local governments with coordination of service delivery, planning, advocacy, technical assistance and project development in such areas as community development, economic development, transportation, housing, land use and natural resources.

The Area 15 RPC provides a variety and diversity of planning, technical, and administrative assistance to its member governments. Services provide by Area 15 RPC cover four broad categories: Economic Development, Community Development, and Transportation Planning.
Chariton Valley Planning & Development

Contact:

Nichole Moore-Executive Director




308 N. 12th Street




Centerville, IA 52544

Phone:

641.437.4359




Fax:

641.437.1161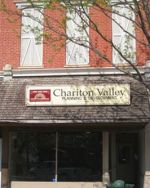 Four county COG - Appanoose, Lucas, Monroe, Wayne

Home Office:
Chariton Valley Planning & Development
Historic Courthouse Square District

Office Hours:
Monday-Friday 8:30-4:30
Closed on holidays
IIowa Economic Development Authority

Contact:

Debi Durham, Director




200 East Grand Avenue




Des Moines, IA 50309

Phone:

515.725.3022




The Iowa Economic Development Authority (IEDA) was created in 2011 to replace the Iowa Department of Economic Development as part of the complete overhaul of Iowa's economic development delivery model.

Our mission is to strengthen economic and community vitality by building partnerships and leveraging resources to make Iowa the choice for people and business. Through our two main divisions – business development and community development – IEDA administers several state and federal programs to meet its goals of assisting individuals, communities and businesses.
Indian Hills Community College

Contact:

525 Grandview Avenue




Ottumwa, IA 52501

Phone:

(800) 726-2585




Indian Hills Community College (IHCC) is one of 15 community colleges in the state of Iowa. Founded in 1966, the college's district spans 10 counties in southeast Iowa.

Mission Statement

Indian Hills Community College, an institution of higher learning, is dedicated to excellence in educational opportunity, economic development, cultural understanding, and social enrichment. Student learning is the central unifying purpose of the college.
Indian Hills Regional Development

Contact:

Dan Tometich




17540 Monroe-Wapello Road




Eddyville, IA 52553

Phone:

(800) 726-2585 ext. 1981




Three county E.D. group centered around the IBC -Mahaska, Monroe, Wapello

Indian Hills Regional Development Corporation (IHRD) is an IRS tax-exempt certified non-profit corporation organized in 1988. IHRD's mission is to promote cooperative economic development efforts within Mahaska, Monroe and Wapello counties of Iowa with a focus on the Iowa BioProcessing Center located in Eddyville, Iowa.

As it becomes more apparent that a Midwest location can benefit manufacturers, especially in value-added agriculture, IHRD is ready to assist those companies interested in location in the tri-county area.

Our group is comprised of a number of industry and economic development professionals familiar with federal, state and local programs that can be used to assist new and existing employers. Many of our members are active in writing grant applications to assist new employers and have successfully applied for and received millions in grant and low interest loan funds.
Iowa Area Development Group

Contact:

2700 Westown Pkwy, Suite 425




West Des Moines, IA 50266

Phone:

800-888-4743




Fax:

515-223-5719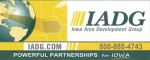 Founded in 1985, Iowa Area Development Group is the business and community development leader for our sponsors and partners, including over 200 member-owned electric cooperatives, municipal utilities and independent telephone companies throughout the state.

At IADG we are committed to providing consultation and assistance that helps businesses and communities achieve their project development goals. Our team of economic development professionals is knowledgeable, supportive and accessible. We can assist with a wide range of services including marketing, business expansions and location, financial incentive packaging, community resource assessment and other important tools vital to development success. IADG also serves as a valuable resource to existing businesses as we continue to provide services necessary with growth and sustainability.
Opportunity2 Region

Contact:

Chris Bowers




651 Indian Hills Drive




Ottumwa, IA 52501

Phone:

641.684.6551




Fax:

641.684.4894

Eight county Economic Development Region in Southeast Iowa